Warning
: Undefined variable $HTTP_SESSION_VARS in
/www/nightwish-music.ru/www/news/inc/functions.inc.php
on line
5
Warning
: Undefined global variable $_SESSION in
/www/nightwish-music.ru/www/news/inc/functions.inc.php
on line
6
Warning
: Undefined variable $HTTP_COOKIE_VARS in
/www/nightwish-music.ru/www/news/inc/functions.inc.php
on line
7
Warning
: Undefined variable $HTTP_POST_VARS in
/www/nightwish-music.ru/www/news/inc/functions.inc.php
on line
9
Warning
: Undefined variable $HTTP_GET_VARS in
/www/nightwish-music.ru/www/news/inc/functions.inc.php
on line
11
Warning
: Undefined variable $HTTP_ENV_VARS in
/www/nightwish-music.ru/www/news/inc/functions.inc.php
on line
13
Warning
: Undefined variable $PHP_SELF in
/www/nightwish-music.ru/www/news/inc/functions.inc.php
on line
27
Warning
: Undefined variable $HTTP_SERVER_VARS in
/www/nightwish-music.ru/www/news/inc/functions.inc.php
on line
27
Warning
: Trying to access array offset on value of type null in
/www/nightwish-music.ru/www/news/inc/functions.inc.php
on line
27
Warning
: Undefined variable $comm_start_from in
/www/nightwish-music.ru/www/news/inc/functions.inc.php
on line
33
Deprecated
: htmlspecialchars(): Passing null to parameter #1 ($string) of type string is deprecated in
/www/nightwish-music.ru/www/news/inc/functions.inc.php
on line
33
Warning
: Undefined variable $start_from in
/www/nightwish-music.ru/www/news/inc/functions.inc.php
on line
34
Deprecated
: htmlspecialchars(): Passing null to parameter #1 ($string) of type string is deprecated in
/www/nightwish-music.ru/www/news/inc/functions.inc.php
on line
34
Warning
: Undefined variable $archive in
/www/nightwish-music.ru/www/news/inc/functions.inc.php
on line
35
Deprecated
: htmlspecialchars(): Passing null to parameter #1 ($string) of type string is deprecated in
/www/nightwish-music.ru/www/news/inc/functions.inc.php
on line
35
Warning
: Undefined variable $subaction in
/www/nightwish-music.ru/www/news/inc/functions.inc.php
on line
36
Deprecated
: htmlspecialchars(): Passing null to parameter #1 ($string) of type string is deprecated in
/www/nightwish-music.ru/www/news/inc/functions.inc.php
on line
36
Warning
: Undefined variable $ucat in
/www/nightwish-music.ru/www/news/inc/functions.inc.php
on line
38
Deprecated
: htmlspecialchars(): Passing null to parameter #1 ($string) of type string is deprecated in
/www/nightwish-music.ru/www/news/inc/functions.inc.php
on line
38
Warning
: Undefined variable $category in
/www/nightwish-music.ru/www/news/inc/functions.inc.php
on line
40
Warning
: Undefined variable $category in
/www/nightwish-music.ru/www/news/inc/functions.inc.php
on line
41
Deprecated
: htmlspecialchars(): Passing null to parameter #1 ($string) of type string is deprecated in
/www/nightwish-music.ru/www/news/inc/functions.inc.php
on line
41
Warning
: Undefined variable $number in
/www/nightwish-music.ru/www/news/inc/functions.inc.php
on line
43
Deprecated
: htmlspecialchars(): Passing null to parameter #1 ($string) of type string is deprecated in
/www/nightwish-music.ru/www/news/inc/functions.inc.php
on line
43
Warning
: Undefined variable $show in
/www/nightwish-music.ru/www/news/inc/functions.inc.php
on line
45
Deprecated
: htmlspecialchars(): Passing null to parameter #1 ($string) of type string is deprecated in
/www/nightwish-music.ru/www/news/inc/functions.inc.php
on line
45
Warning
: Undefined variable $HTTP_SERVER_VARS in
/www/nightwish-music.ru/www/news/show_news.php
on line
20
Warning
: Trying to access array offset on value of type null in
/www/nightwish-music.ru/www/news/show_news.php
on line
20
Warning
: Undefined variable $HTTP_SERVER_VARS in
/www/nightwish-music.ru/www/news/show_news.php
on line
20
Warning
: Trying to access array offset on value of type null in
/www/nightwish-music.ru/www/news/show_news.php
on line
20
Warning
: Undefined variable $HTTP_SERVER_VARS in
/www/nightwish-music.ru/www/news/show_news.php
on line
20
Warning
: Trying to access array offset on value of type null in
/www/nightwish-music.ru/www/news/show_news.php
on line
20
Warning
: Undefined variable $HTTP_SERVER_VARS in
/www/nightwish-music.ru/www/news/show_news.php
on line
20
Warning
: Trying to access array offset on value of type null in
/www/nightwish-music.ru/www/news/show_news.php
on line
20
Deprecated
: preg_match(): Passing null to parameter #2 ($subject) of type string is deprecated in
/www/nightwish-music.ru/www/news/show_news.php
on line
23
Warning
: preg_match(): Delimiter must not be alphanumeric or backslash in
/www/nightwish-music.ru/www/news/show_news.php
on line
23
Warning
: Undefined variable $POST in
/www/nightwish-music.ru/www/news/show_news.php
on line
36
Warning
: Trying to access array offset on value of type null in
/www/nightwish-music.ru/www/news/show_news.php
on line
36
Warning
: Undefined variable $CN_HALT in
/www/nightwish-music.ru/www/news/show_news.php
on line
71
Warning
: Undefined variable $static in
/www/nightwish-music.ru/www/news/show_news.php
on line
71
Warning
: Undefined variable $QUERY_STRING in
/www/nightwish-music.ru/www/news/inc/shows.inc.php
on line
5
Deprecated
: explode(): Passing null to parameter #2 ($string) of type string is deprecated in
/www/nightwish-music.ru/www/news/inc/functions.inc.php
on line
311
Warning
: Undefined array key "" in
/www/nightwish-music.ru/www/news/inc/functions.inc.php
on line
315
Warning
: Undefined variable $my_q in
/www/nightwish-music.ru/www/news/inc/functions.inc.php
on line
324
Deprecated
: substr(): Passing null to parameter #1 ($string) of type string is deprecated in
/www/nightwish-music.ru/www/news/inc/functions.inc.php
on line
324
Warning
: Undefined variable $my_q in
/www/nightwish-music.ru/www/news/inc/functions.inc.php
on line
326
Warning
: Undefined variable $QUERY_STRING in
/www/nightwish-music.ru/www/news/inc/shows.inc.php
on line
6
Deprecated
: explode(): Passing null to parameter #2 ($string) of type string is deprecated in
/www/nightwish-music.ru/www/news/inc/functions.inc.php
on line
311
Warning
: Undefined array key "" in
/www/nightwish-music.ru/www/news/inc/functions.inc.php
on line
315
Warning
: Undefined variable $my_q in
/www/nightwish-music.ru/www/news/inc/functions.inc.php
on line
324
Deprecated
: substr(): Passing null to parameter #1 ($string) of type string is deprecated in
/www/nightwish-music.ru/www/news/inc/functions.inc.php
on line
324
Warning
: Undefined variable $my_q in
/www/nightwish-music.ru/www/news/inc/functions.inc.php
on line
326
Warning
: Undefined variable $member_db_line in
/www/nightwish-music.ru/www/news/inc/shows.inc.php
on line
53
Deprecated
: preg_match(): Passing null to parameter #2 ($subject) of type string is deprecated in
/www/nightwish-music.ru/www/news/inc/shows.inc.php
on line
53
Warning
: preg_match(): No ending matching delimiter '>' found in
/www/nightwish-music.ru/www/news/inc/shows.inc.php
on line
53
Warning
: Undefined array key 4 in
/www/nightwish-music.ru/www/news/inc/shows.inc.php
on line
55
Warning
: Undefined array key 7 in
/www/nightwish-music.ru/www/news/inc/shows.inc.php
on line
63
Warning
: Undefined array key 5 in
/www/nightwish-music.ru/www/news/inc/shows.inc.php
on line
63
Warning
: Undefined array key 2 in
/www/nightwish-music.ru/www/news/inc/shows.inc.php
on line
64
Warning
: Undefined array key 2 in
/www/nightwish-music.ru/www/news/inc/shows.inc.php
on line
64
Warning
: Undefined array key 2 in
/www/nightwish-music.ru/www/news/inc/shows.inc.php
on line
65
Warning
: Undefined array key 2 in
/www/nightwish-music.ru/www/news/inc/shows.inc.php
on line
65
Warning
: Undefined array key 7 in
/www/nightwish-music.ru/www/news/inc/shows.inc.php
on line
68
Warning
: Undefined array key 2 in
/www/nightwish-music.ru/www/news/inc/shows.inc.php
on line
68
Warning
: Undefined array key 5 in
/www/nightwish-music.ru/www/news/inc/shows.inc.php
on line
68
Warning
: Undefined array key 2 in
/www/nightwish-music.ru/www/news/inc/shows.inc.php
on line
70
Warning
: Undefined array key 3 in
/www/nightwish-music.ru/www/news/inc/shows.inc.php
on line
70
Warning
: Undefined array key 2 in
/www/nightwish-music.ru/www/news/inc/shows.inc.php
on line
71
Warning
: Undefined variable $member_db_line in
/www/nightwish-music.ru/www/news/inc/shows.inc.php
on line
53
Deprecated
: preg_match(): Passing null to parameter #2 ($subject) of type string is deprecated in
/www/nightwish-music.ru/www/news/inc/shows.inc.php
on line
53
Warning
: preg_match(): No ending matching delimiter '>' found in
/www/nightwish-music.ru/www/news/inc/shows.inc.php
on line
53
Warning
: Undefined variable $catid in
/www/nightwish-music.ru/www/news/inc/shows.inc.php
on line
374
Warning
: preg_match(): Delimiter must not be alphanumeric or backslash in
/www/nightwish-music.ru/www/news/inc/shows.inc.php
on line
377
Warning
: Trying to access array offset on value of type null in
/www/nightwish-music.ru/www/news/inc/shows.inc.php
on line
40
Deprecated
: str_replace(): Passing null to parameter #2 ($replace) of type array|string is deprecated in
/www/nightwish-music.ru/www/news/inc/shows.inc.php
on line
395
Warning
: Undefined variable $cat_icon in
/www/nightwish-music.ru/www/news/inc/shows.inc.php
on line
397
Warning
: Trying to access array offset on value of type null in
/www/nightwish-music.ru/www/news/inc/shows.inc.php
on line
397
Warning
: Undefined variable $my_start_from in
/www/nightwish-music.ru/www/news/inc/shows.inc.php
on line
403
Deprecated
: str_replace(): Passing null to parameter #2 ($replace) of type array|string is deprecated in
/www/nightwish-music.ru/www/news/inc/shows.inc.php
on line
417
В Финляндии выпустят серию марок с рок-группами
Недавно стало известно, что почта Финляндии планирует выпустить новую серию марок с изображениями знаменитых финских коллективов. В список вошли: Nightwish, The Rasmus, Hanoi Rocks, HIM, Apocalyptica и Children of Bodom. На марках будут красоваться логотип и фото группы.
Удивляться такому обилию рок-групп в списке не стоит - по официальной статистике на каждые сто тысяч населения приходится более пяти десятков металл-коллективов (в соседних Норвегии и Швеции - всего лишь по три десятка). Существует мнение, что Финляндия – считай что единственная страна в мире, где металл давно стал мейнстримом. Стоит вспомнить, что и Евровидение для Суоми выиграла именно "тяжелая" группа – костюмированные рокеры Lordi.
Напомним, что в этом году финны снова решили сделать ставку на тяжелую музыку: на Евровидение в этот раз отправятся панки Pertti Kurikan Nimipäivät. Вполне возможно, и они впоследствии будут увековечены на марках.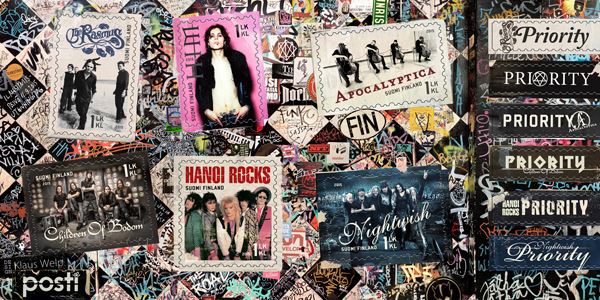 Warning: Undefined array key "archive" in /www/nightwish-music.ru/www/news/show_news.php on line 120